What is it that motivates people to climb lofty mountains and jump out of airplanes? How do astronauts find the courage to step inside a spacecraft and venture into the unknown? How do surgeons manage to keep their hands steady even when performing an open-heart surgery? The answer is self-confidence.
Here's the thing – you can't achieve great things in life if you keep doubting your abilities. Low self-confidence is often the main reason you hold yourself from accomplishing your goals. Whether you want to run a 10K marathon or deliver a speech in front of a thousand people, you must believe that you can do it.
Nevertheless, boosting self-confidence and self-esteem is easier said than done. Many factors, including your childhood, present lifestyle, belief system, and social media influence your morale and confidence. A recent traumatic event such as an accident or a heartbreak can also affect your self-esteem. While a slight dose of self-doubt is healthy, it can affect your physical and mental wellbeing in the long run.
The good news is making simple changes in your lifestyle and outlook can help you regain confidence. If you've been struggling with low self-esteem and morale, use the following hacks to feel confident about yourself: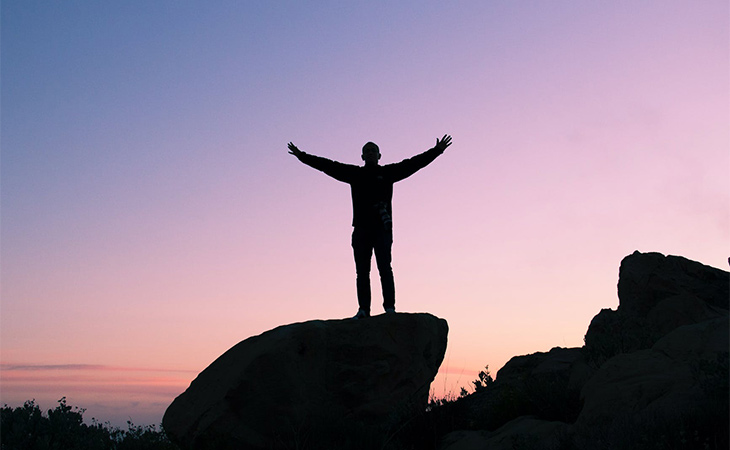 1. Understand Yourself
The first step of building self-confidence is to find the underlying reason behind your self-doubt. Do your insecurities stem from the fact that you were bullied in school? Or have you started questioning your skills after constant criticism from your boss? Perhaps your low self-esteem is a result of you blaming yourself for other people's mistakes?
If you want to regain your confidence, it's important to find the answers to these questions. Start by reflecting on your childhood and identifying unresolved issues and/or traumatic events from your past. You could consult a professional therapist to handhold you through this process. Also, they can help you overcome your fears and find closure.
Likewise, you can get in touch with a psychic reader to get connect with your inner-self. From interpreting your dreams to revisit your past life – psychic readers use various techniques to identify the root cause of your low self-esteem. For instance, when you understand your dreams, you get an insight into the self-limiting beliefs and fears that are usually tucked inside your subconscious. Also, it gives you a glimpse of your hidden desires and helps you set realistic and attainable goals.
2. Step Out of Your Comfort Zone
As children, we all tend to imagine that the sky is the limit and we can accomplish anything. But as you grow up, your parents, teachers, and society have conditioned you to believe that you aren't capable of doing certain things. Consequently, you've adopted a lifestyle that conforms to these limiting beliefs imposed on you by external factors.
That's why the key to boosting self-confidence is to challenge your own limits. If you've never taken a ballet class, how will you know whether you're good at it? Just because you froze on stage at the age of five doesn't mean you can't become a good performer.
It's important to push your boundaries and keep trying new things. Do things that you never imagined yourself doing. You'll soon find that it isn't difficult to venture into unknown territory and even master new skills. Even something as ordinary as cooking a healthy meal or fixing a broken gadget can boost your self-confidence.
3. Be Easy on Yourself
It's important to challenge your belief system by trying your hands at new activities and skills. But it's also essential to not beat yourself up when you don't succeed at something. The key to enhancing self-confidence is to embrace failure and not indulge in overt self-criticism. In fact, scientific research indicates a direct correlation between self-compassion and self-esteem.
Remember to cut yourself some slack when you fail to accomplish a task. Think of every failure as a learning experience that'll help you grow and mature as an individual. Talk to yourself and assure yourself that "nobody is perfect". Inculcating a positive and nurturing mindset might be just the motivation you need to get your confidence back.
4. Take a Social Media Timeout
A 2018 study found a direct link between envy and self-esteem. The more you compare your life with that of others, the easier it becomes for self-doubt to creep into your mind. There isn't a better way to nip this envy and comparison in the bud than by staying away from social media. Even if you use social media, make it a point to remind yourself that people only share the best moments of their lives on these platforms.
5. Embrace a Healthy Lifestyle
If you don't get enough sleep, eat plenty of junk food, or don't get enough exercise, it'll take a toll on your morale. That's why the key to boosting self-confidence is to make conscious choices to improve your lifestyle. Create a daily routine and try your best to stick to it. It'll give you a sense of purpose and help you feel more accomplished at the end of each day.
Have you used any other techniques to build self-confidence? Share your tips in the comments section below.