We live in the world that is full of surprises, trivia and random facts. Some of these facts are so strange that it's hard to believe whether they are true or not.
Those days are long gone when we have no simple way to check the authenticity of weird facts. Thanks to the Internet, we have unlimited access to verify the validity of these random facts.
Here, we have collected 30 of such facts for your reading pleasure. Don't forget to impress your friends with your knowledge by sharing some of these urban myths with them.
#1. There's a building in Canada…that's also in the United States.
The Haskell Free Library and Opera House sits between Stanstead, Quebec, and Derby Line, Vermont. The stage of the opera house is in Canada, while the seating is in the USA.
#2. Someone safely landed a plane in the middle of Manhattan. Twice.
In 1956, a drunk pilot named Thomas Fitzpatrick stole an airplane and landed it safely on St. Nicholas Avenue in Manhattan. Two years later, he told the story in a bar. The bar patrons didn't believe him, so Fitzpatrick responded in the only reasonable way: He went out and did it again.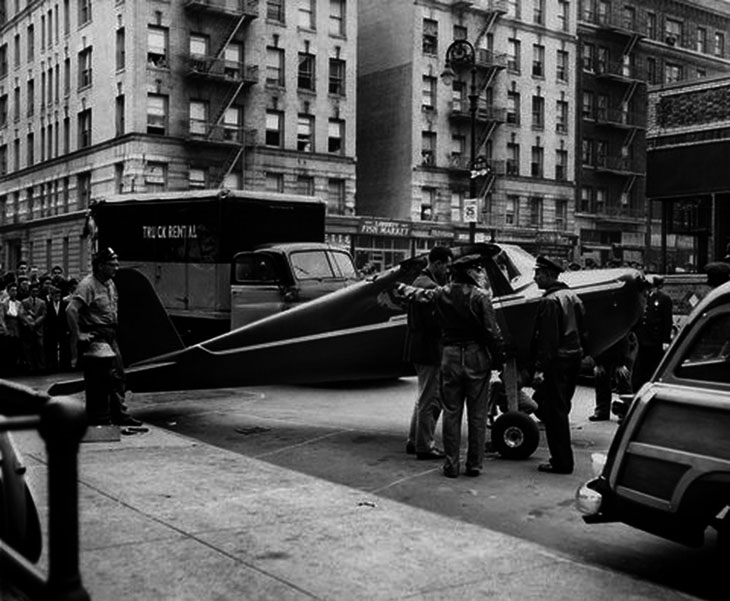 John Muravcki/The New York Times
#3. Washington D.C.'s cherry blossom trees were a gift from the Japanese.
On February 14, 1912, 3020 cherry trees came from Japan to Washington D.C. They were gifted to the city by the former mayor of Tokyo, Yukio Ozaki. Now, D.C. residents and tourists can see the blossoms on The National Mall every spring.
#4. Albert Einstein had a plan B.
"If I were not a physicist, I would probably be a musician," Einstein said. "I often think in music. I live my daydreams in music. I see my life in terms of music."
Of course, Einstein succeeded as a physicist – but he still played a mean violin.
#5. There's such a thing as "too handsome for Saudi Arabia."
Actor, photographer and poet Omar Borkan Al Gala was kicked out of Saudi Arabia for being too handsome. Saudi police decided that Al Gala might be too tempting for local women.
#6. Safe sex in Venezuela is ridiculously expensive.
In the last few years, inflation in Venezuela has increased by nearly 60%. That increase, (combined with a general shortage of condoms in the country) has meant that a box of condoms on the free market could cost up to $750.
#7. Earth is the only planet in our solar system not named after a god.
No one knows who came up with the name "Earth," but what is known is that it is derived from German – more specifically, the word "erde," which means "ground."
#8. Native Americans helped America win World War II
During World War II, the American soldiers created a variety of codes to communicate with one another under the radar of the German military. The Germans managed to crack most of the codes, except for one: The one derived from Navajo languages.
#9. Auroville, India has residents from over 50 different countries.
Auroville, or the City of Dawn, is an experimental community located in southern India that is meant to be a diverse, modern-day utopia. Founded in 1968, the town was intended to have over 50,000 residents, but now there are only about 2,300 people living there – but they are from all over the world.
#10. Fahrenheit isn't popular in other parts of the world.
The only countries that use Fahrenheit are the Bahamas, Belize, Cayman Islands, Palau and United States. The rest of the world uses Celsius.
#11. Thomas Alva Edison was afraid of the dark.
Good thing he invented the lightbulb.
#12. Pablo Picasso actually has 14 names.
Painter Pablo Picasso wanted to keep his name short and simple, but his real name is a mouthful: Pablo Diego José Francisco de Paula Juan Nepomuceno María de los Remedios Cipriano de la Santísima Trinidad Ruiz y Picasso.
#13. You know the one about men with dogs getting ladies? That's real.
A study shows women are more attracted to men who have dogs. Apparently, women associated dog ownership with a willingness to commit.
#14. It's possible for one twin to be three months older than the other.
Kate and Amy Elliot broke the Guinness World Record for "longest interval between the birth of twins." The girls were born 87 days apart, which is almost three months!
#15. Twisted was once considered raunchy.
When the board game was released in 1966, conservatives declared it a filthy game, or "sex in a box."
#16. Pinocchio is a literal name.
In Italian, "pinocchio" literally means "pine head."
#17. Genetically altered mosquitoes are a thing of the future – and the future is now.
Each year, approximately 1 million people die from mosquito borne diseases. To avoid this, one biotech company in the UK is working on genetically altered mosquitos. Cool, but we're not sure why they don't just figure out a way to eliminate the little buggers completely.
#18. Otters are lovers at heart.
Otters sleep holding hands to prevent floating away from each other.
#19. One man's last meal? A single olive.
Victor Feguer was executed for kidnapping and murder in 1963. His last meal request? A single olive with the pit still inside.
#20. The womb is incredibly stretchy.
A woman's womb will expands up to 500 times its original size during pregnancy.
#21. Donald Duck is the world's most modest nudist.
Donald Duck never wears pants. Still, he insists on wrapping himself in a towel whenever he gets out of the shower.
#22. You should never stop a sneeze.
If you have to sneeze, it's better to just let it fly. If you try to suppress it, you can rupture a blood vessel, pop an eardrum, or even crack a rib.
#23. The Pentagon is prepared for zombies.
The Pentagon has actual plan to address what would happen if we were under attack by zombies. This idea is somehow both disturbing and comforting.
#24. Ikea is a babymaker.
10% of Europe's babies are conceived in an Ikea bed.
#25. This old wive's tale is actually real.
Pregnant women and new moms who are around babies can automatically begin lactating when they hear the baby cry – even if it's someone else's kid.
#26. Leonardo Da Vinci wrote right to left.
Leonardo Da Vinci wrote most of his notes in mirror, forcing him to write in reverse. It is said that he did so to prevent people from stealing his ideas.
#27. Al Gore and Tommy Lee Jones were roommates at Harvard.
Further proof that all the most interesting stuff happens in college.
#28. "I have a dream…" was not part of Dr. Martin Luther King's original speech.
The phrase was inspired b y a singer named Mahalia Jackson, who encouraged King to speak to the crowd "about the dream." After speaking with Jackson, King rewrote that part of his speech.
#29. The 8th president was the first American.
Martin Van Buren was the first president to be born a U.S citizen. All the presidents before him were considered British subjects.
#30. Your phone is disgustingly dirty.
Cell phones are covered with 18 times more bacteria than a toilet seat.
SHARE these weird urban myths with your friends and family. They may learn something from it.