Coastal fairy tale, eternal tranquility and greatness of the water element! Fresh and relaxing amid the hectic pace of everyday life, bathed in sunshine and warmth – singing about carelessness and childhood – this is what coastal interior design is about. Also called "beach house," this style is widely popular in America and Canada. Especially in Canada, where summer is so lacking! But it doesn't matter where your home is, how many kilometers lie between it and the nearest coast. The "beach house" style will help to create an atmosphere of bright sunny mood, which is at the core of the coastal style.
The coastal style combines several completely different trends: Mediterranean villa, English manor, tropical bungalow, Finnish cottage. Each of them has its own unique charm, its own zest. In this article, we will consider one of the "beach house" options – American. In this style, there is a light and fresh breeze of the ocean coast, summer, sun, an atmosphere of carefree relaxation and celebration.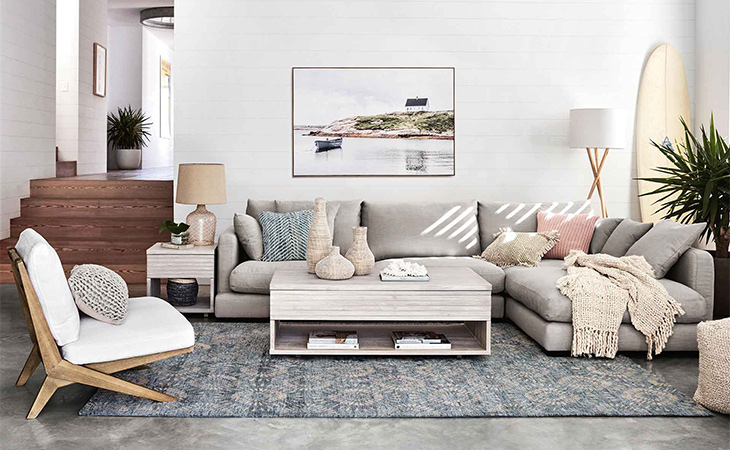 The Main Elements of Coastal Style
The color palette is drawn by the beach. Sand shades – cream, yellow, orange, brown and coral seas – turquoise, blue and blue gravel, pale gray and gray-brown. The colors are pronounced and saturated, not washed out and muted, but rather joyful and even a little elegant.
The windows are as large as possible and the curtains are as small as possible, thereby erasing the border between the house and the street, drawing you closer to nature, light and sky. Curtains, if any, are very light made of translucent cotton or burlap. It can also be bamboo Roman blinds or mats.
The furniture is mostly simple and traditional, usually made of rattan, bamboo and oak – comfortable, with elegant, simple lines and soft upholstery. The furniture arrangement is well thought out to create a relaxing environment for a family, a quiet getaway.
Carpets are large and soft. They create extra coziness and a sense of comfort. It can be any kind of carpets – woolen, woven, lint-free, fluffy, bamboo, jute and even seaweed. There are never too many carpets in this style, the only rule is that they should all be as light as possible, as if faded in the sun or frayed in the wind.
Floors can be tiles, laminate or natural wood, but they must all be in the warm shades of a sandy beach.
Coastal design in no way implies filling all the shelves with shells, anchors, lighthouse figurines and other details related to the nautical theme, but rather exactly the opposite, these details should be added very carefully. A professionally crafted coastal design doesn't need shells to carry within it the sounds of the sea. The feeling of relaxation is conveyed by comfortable and large sofas placed close to each other. The feeling of summer is created through a warm, sunny palette and an open water element with the help of seascape paintings on the walls and vases made of turquoise glass, which, reflecting light, resemble the reflection of the sun on the sea surface. This is all complemented by beach materials such as mesh, straw and bamboo.
Pendant lamps in cream tones, with a straw or fabric shade. Table lamps with a colored glass base are simply an irreplaceable element of decor in this style. Lots of candles and lanterns can be scattered randomly on shelves and coffee tables.
Natural lighting
The secret of the coastal style is the abundance of light – this is an important and obligatory attribute of this direction. What can help achieve the maximum illumination effect? Of course, the use of dazzling white in interior decoration. White shades of the spectrum are capable of reflecting natural light, amplifying it. It is necessary to let in as much fresh air and bright sun as possible into the house. Large windows and glass doors can help achieve the desired effect. If there are few of them in your home, then you can add artificial lighting from additional lamps, chandeliers, wall sconces.
Summer textures
The correct choice of textiles for interior decoration will help to enhance the triumph of white. These should be lightweight, simple fabrics of various textures. White curtains fluttering from the summer breeze will remind you of the sea breeze filling the sails. Here it would be appropriate to use elements of marine decor (but in moderation!): graceful shells, shiny caskets, pillows with a marine print. The basic rule is not to "burden" the space with unnecessary details.
The key value of white in coastal-style interiors can be accentuated with subtle shades of gray, khaki – to remind you of the charm of the coastal dunes. By adding delicate shades of blue, we will feel the charisma of the sea and sky. The unobtrusive interweaving of transparent halftones and an abundance of natural light – all this will create an atmosphere of bliss, relaxation and comfort. Fidelity to the theme of the beach house needs to be enhanced by the use of natural textures: seagrass, straw, jute. Chairs made of rattan, tree branches in a huge vase – the details like these ones add the natural warmth of Mother Nature. But don't get too carried away – you need to add a little contrast to create the perfect balance. For example, a table with a glass top will fit perfectly into the overall look of the room.
Coastal style dining room
In the dining room, the romance of the coastal style can be emphasized by the massive tabletop of the dining table, made of light oak, slightly touched by patina, as if bleached with sea salt. Kitchen furniture made of light wood in tone with the main accent element – the table – will be an ideal addition. The wide collection of such furniture on nyfurnitureoutlets.com will make the decoration process much easier.
Open space is another nuance inherent in the coastal chic style. Freedom, the spirit of endless space do not accept cluttering with unnecessary furniture and knickknacks. The clear perspective of the line of sight should not linger on objects in the center of the room.
Furniture in a house designed in a coastal style must match the chosen image. It is very inviting to sit on it in a wet swimsuit and at the same time, it feels very comfortable yet elegant. Covers for chairs and armchairs with perfectly clean lines can contribute to this.
A little about accessories
To maintain the atmosphere of relaxation, sea and sun, it is necessary to choose such decorative elements as if they had just been brought from the beach. A sort of Captain Flint's treasures: dark glass bottles, unusual shells, wooden chests and other interesting things. And again it is worth recalling restraint – the coastal style does not allow clutter, even with very interesting elements.
A huge opportunity for creativity opens up when you are decorating a house in the coastal chic style and you can let yourself be carried away by the sea and wind.