When it comes to dressing windows, many people immediately think of curtains or blinds. However, window shutters are a unique and attractive alternative, and they have many practical advantages, too.
Here are seven benefits of installing interior shutters to your windows.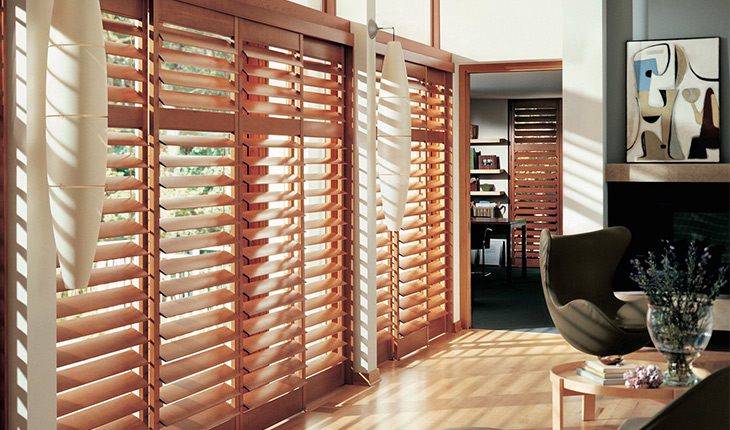 They Add Privacy
Interior shutters can help increase privacy in your home. In rooms where windows face the street or other houses, shutters can help keep away prying eyes without blocking out the light. Merely open the louvers or panels at an angle that lets in the sun yet will still maintain your privacy.
They Are Energy Efficient
Fitting your windows with shutters can help you reduce your energy costs by protecting against sun and heat in summer and wind and cold in winter. On hot days, you can open the windows and adjust the shutters to let in a cool breeze while deflecting any direct sunlight. On cold days, you can close the shutters tightly which will help trap warm air inside.
Also closed shutters offer a level of sound insulation, too, by blocking out and muting outside noises.
A Low Maintenance Option
Curtains and blinds easily attract dust, and keeping the fabrics clean can be a hassle. Shutters, on the other hand, are an excellent choice for people with allergies because they are so easy to keep clean. All you have to do is occasionally wipe them down with a damp cloth, and you won't have any issues with dust and dirt build-up.
Plus, if you want a fresh look, you can easily re-paint the shutter in a different color!
Window Shutters Add Extra Curb Appeal
Interior shutters have been around since the earliest times, and they offer timeless beauty and class. They are versatile enough to fit in with any style décor, from farmhouse to traditional to ultra-modern. Plus they look beautiful on pretty much any style home including Craftsman, modern or traditional.
Interior window shutters also add to your home's value. Prospective home buyers are always keeping an eye out for additions and improvements when comparing properties. While many decorative options available on the market are expensive, with window shutters you can transform your home at a very low price.
They Are Easy to Customize
Whatever decor idea you have in mind when installing shutters, it's possible to find just what you want. Ready-made plantation shutters come in many sizes so finding the correct size for your windows usually isn't a problem. Plus they are available in a wide assortment of designer-inspired materials and finishes, colors, and architectural styles.
If you cannot find the size or style you need, most window shutters can be customized to fit your needs.
Window Shutters Offer Light Control
With shutters, you can let in the exact amount of light you want any time of day. This is because the interior shutters that have louvers can be adjusted to allow varying amounts of sunlight to enter between the slats.
Plus, the panels themselves can be fully opened to let light flood into the room, or completely closed to keep the room dark. This not only makes it easy to create the ambiance you want in any room, but it can also save on lighting costs.
Also, in rooms that you wish to darken, shutters block out more light than most other window coverings.
UV Protection
Shutters also add a layer of UV protection. The ability to adjust the louvers enables you to direct light away from furniture and flooring, therefore prolonging the life of the furniture and preventing patterns from fading.
Also, many shutters are finished with a UV-protective layer, which will help protect the paint or wood stain finish and prevent the panels from warping.
In Conclusion
Shutters are a unique and stylish window treatment that adds quiet beauty to almost any room. If you are looking to add versatility, energy efficiency and beauty to your home, consider installing interior window shutters.