Popping down into the US for a shopping trip, to visit family or just for a change of scenery used to be much easier than it is now. Crossing the border was quick and painless.
It is still easy enough to do, but border agents are a bit more strict these days. You just need to do some planning ahead to make the process go much easier.
Though there isn't much we can do about the long lines, we can help you to not take too much time when it's your turn to pass.
In this article, you'll find several tips that can make the border crossing much less painful.
1 – Taking a Rental across the Border
Let's suppose you rented a car in Bonaventure in Montreal and want to cross into Vermont.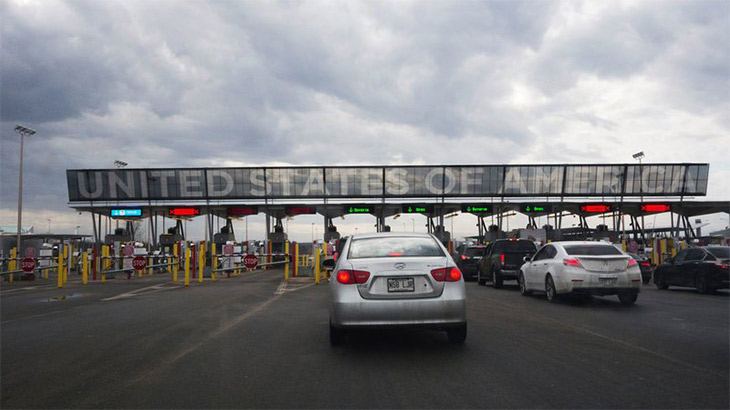 There are a few things you need to do to make sure you get through smoothly. Border agents are always on the lookout for thieves who want to take a rental over the border to sell it illegally.
Make sure you tell the rental agency that you plan to cross into the US with the car. Not all companies allow it so you have to make sure it is even possible with your preferred agency.
If it is allowed, then they should put this in the rental agreement where it is clearly shown. A border agent will want to see the agreement and that it is allowed by your rental company.
2 – Use Some Apps
We are so lucky to have so many travel hacks and apps these days to make traveling so much easier.
For example, before you hit the road you can check what the wait times are at the crossings. If one is backed up but another crossing point is flowing better, then adjust your route to go through that crossing.
If all of them seem backed up then you can simply try to wait it out by leaving later or trying for an overnight crossing when there are less people.
3 – Keep Your Receipts
If you plan to do some shopping while in the US, you are allowed some duty free goods. Any purchases done within 24 you are allowed to bring back up to $200 Canadian without paying any taxes or duties. That limit is raised to $800 if you are away for over 48 hours.
Unfortunately, these duty free allowances are not available if you are gone for less than 24 hours. You'll have to pay full duties on any goods if you are just going over for a few hours of shopping.
Check the list of prohibited goods to make sure you are allowed to come back into Canada with them.
4 – Have the Right Paperwork
To cross, you need to have an enhanced driver's license if you are crossing by land or sea. It's always a good idea to have a passport just in case. Border agents can deny a perfectly valid enhanced driver's license if they feel like it so a passport is always the best option.