Floods are among the most common risks homeowners in United States are exposed to and they result in damages amounting in billions of dollars every year. A flood can happen in a flash and you need to be prepared. Since home insurance policies can be confusing, this article will try to explain the basics of flood insurance policies.
Most standard home insurance policies cover the water damage caused by broken pipes or faucets, but they do not cover water damage caused by extreme weather conditions such as heavy rains leading rivers to overflow. For this reason, congress created the NFIP (National Flood Insurance Program) in 1968, after the damages caused by Hurricane Betsy in Florida and Louisiana in 1965.
What Is Flood Insurance?
Flood insurance is a form of property insurance which covers damage to said property caused by heavy rain, rainfall over an extended period of time, coastal flooding from storm surges, sewer backup, melting snow and levee breaches.
Typically, a flood is regarded as a vis major event, therefore the damage goes uncovered unless you get an additional insurance policy.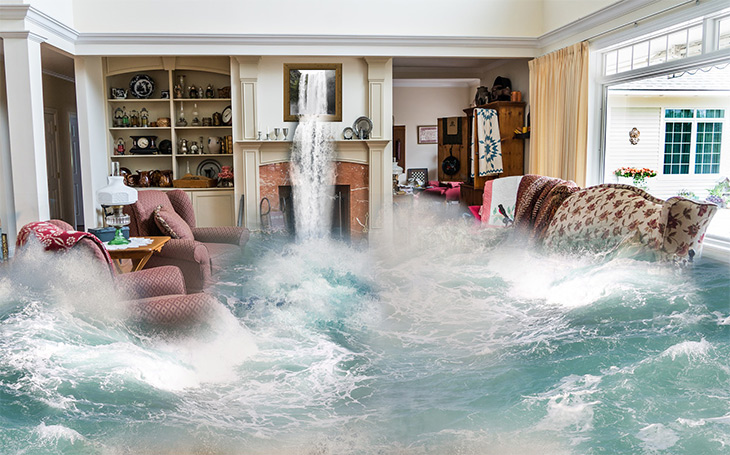 What Does Vis Major Mean?
Vis major (Latin) or force majeure (French) is a term that means "superior force" and is used to refer to an inevitable natural even which results in damage or destructions, isn't caused by people and could not be avoided even if they exercised the highest degree of care and caution.
Examples include earthquakes, tornadoes, hurricanes and floods. You might have heard of the term "act of God" which is synonymous with vis major. These terms are used in contracts with the purpose of protecting one or both parties from contractual obligations or liability in case of events beyond their control.
If you currently have an insurance policy on one or more properties, and are not familiar with this clause, we recommend you check to see what is covered and what isn't.
The federal National Flood Insurance Program (NFIP) we mentioned earlier provides homeowners with flood insurance and, although the policies are made through private insurance companies, the government has set standard rates depending on where the property is located in terms of flood zones (low, medium or high risk), how old the property is, number of floor and elevation relative to the BFE (Base Flood Elevation). This means that regardless what insurance company you get your policy from, you will pay the same rate (between $573 and $1,395).
How Flood Insurance Works
Your standard homeowners insurance policy will cover water damage from burst pipes, damage from tornadoes or storms, but it typically does not include damage from floodwaters. If you live in an area especially vulnerable to this kind of natural disaster, like many parts of Florida for example, it's best to get additional coverage.
It works like any other insurance policy: you, the insured party, will pay an annual premium based on the factors enumerated before (flood risk) and the deductible you choose. The deductible is the amount of money you have to pay before your insurance provider issues payment up to your policy limit.
Let's say you have a policy limit of $250,000 and you set your deductible at 2%, this means you will have to pay the first $5000. You can set the deductible yourself, but know that the lower you set your deductible, the higher the premium and most insurance companies will have a minimum.
In case your property is damaged or destroyed by a flood caused by rainfall, snow, storms, or failed/collapsed infrastructure) you will be given the amount of money necessary to repair or rebuild the affected structure, up to your policy limit. For the contents of your home (electronics, appliances, furniture etc.) you will need a separate policy (usually for up to $100,000), in contrast with standard home insurance.
For water damage caused by sewer backup not resulting from floodwaters, you will also need an additional coverage rider.
Lender-Required Flood Insurance
Flood insurance is typically optional if you're taking out a mortgage on a property in a low-risk flood area. It may be optional even in high-risk areas depending on the type of loan you're taking. But if your lender is federally regulated (loans backed by the Federal Housing Administration or FHA) and the property is located in high-risk flood zone (Special Flood Hazard Area) you will be required to get a flood insurance policy and keep it until you have paid off the mortgage.
This is because when you take out a mortgage on a house, this house will serve as collateral in case you stop making payments, so the borrower has a financial stake in this property. If it gets damaged or destroyed by floodwaters, the lender is at risk of losing the money you borrowed since the property can't be sold to make up for it. In order to eliminate this risk, they will require you to pay for flood insurance.
You will be required to secure the flood insurance policy before closing on the property and your mortgage lender will usually collect the insurance payments along with the monthly mortgage payments, keep the money in an escrow account and pay the insurance company on a yearly basis – similarly to how homeowners insurance payments are handled. This means that once you secure the initial policy, you don't need to do anything other than pay every month.
The National Flood Insurance Program
The National Flood Insurance Program or NFIP is managed by the Federal Emergency Management Agency or FEMA which also works on updating the maps of flood zones in the Unites States. These zones are carved up into categories based on a ranking system.
If the property is in zones B, C or X it means the risk of flooding is low or moderate. Low means less than 1%. The zones placed under category A are considered high-risk and they're further broken down based on height of potential floodwaters and the estimated rate of flood occurrence over a 30-year period (so it applies to typical mortgage duration). Zones designated with the letter V are similar to A, they're high-risk areas along the coast.
FEMA updates these maps according to weather patterns and artificial changes like dams or levees which impact the risk of flooding.