On the wedding day, a lot of focus is on the bride, but it is also a big day for the groom as well. The groom has to step up to look and feel stylish. Other than having a proper attire and being well-groomed, there are accessories to help him look his best to his beautiful bride, to the guests and in the wedding photos. Having the right groom accessories will help him create his own style and make the special day memorable. Here are some of the best accessories to finish the groom's look.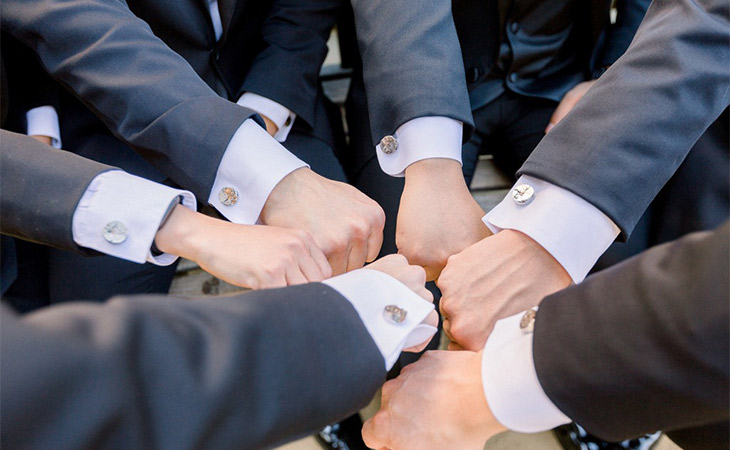 Shoes
Wedding shoes are essential, just like the wedding suit. They not only serve a useful purpose, but they also reflect a different level of style and elegance. Go for a pair of shoes that have a darker color in comparison to the color of pants. You can also match shoe color with your belt. The shoe must be well-fitting and comfortable as you will be standing and sitting for lengthy periods, and you will need to feel at ease.
Neckwear
Neckwear, during a wedding, is vital. It is the first thing guests will notice when looking at the groom, plus it's the one garment that completes any tuxedo or suit. Whether you choose a cravat or a bow tie, it should be a perfect match or a good contrast to the attire that you are wearing. With so many colorful and bold options available at the market, you will always find neckwear that gives the groom a sharp, classy, and charismatic look.
Cummerbunds
Cummerbunds are large pleated bands of fabric that are put on the waist and offer a sophisticated alternative to the waistcoat. They are meant to make the groom look taller and thinner. At formal weddings, the traditional choice of color for the cummerbund is either black or white. The groom may also opt to wear a different color from the rest of the groomsmen, which sets him apart. When wearing cummerbunds, remember that the pleats should point up and that a jacket should be worn with it.
Cufflinks
Cuff links may be just tiny add-ons to the groom's outfit but can entirely make a big difference to how a groom looks. Therefore choosing a quality set of cufflinks is vital. Highly polished silver cufflinks are an excellent choice for all types of weddings. However, if looking for a luxurious look, go for cufflinks with a diamond finish. Head to Groomsshop for cufflinks in pearl, enamel, crystal, metal, and diamond finishes. Sports themed cufflinks, and engraved cufflinks can help illustrate your personality.
Stud sets
This is a type of accessory that can embellish the groom's attire. A stud set consists of four or five little jewelry pieces that are placed on a formal shirt instead of usual buttons. Your stud studs and cufflinks should match to ensure a complete look of your attire.
As a groom, take your time choosing your accessories and make sure you feel comfortable with them. When you put that ring on your bride's finger, you do not want that lovely cuff to get in the way. Look and feel your best with the right accessories.