From the skies to earth, leaves, water, and general nature. Fall is a beautiful season. Also, this time of the year is perfect for a wedding. It is neither hot nor extremely cold and the weather is reliable. And then there is the matter of colors, which piques everyone's interest.
Fall wedding colors are versatile, bright, and appealing. There's no limitation to how bold or demure you can go. The options are endless for the outfit, decor, floral arrangements, color palettes. Etc. So, if you're having a wedding around November, September, and October. Let these fall wedding color schemes inspire you.
Champagne and dusty rose:

If you're having a very formal wedding, try these fall wedding color ideas. They're perfect for grand ball weddings. Have your maid of honor wear champagne while the bridesmaids stun in dusty rose. Combine these colors in your bouquet with a touch of white. Do champagne invitations and dusty rose place cards. These colors are beautiful individually and a dream when combined.

Deep green and pale pink:

Deep green and pale pink are unique November wedding colors. They're laid back but pack enough punch individual to induce appeal. They're the perfect color to usher in winter. These colors are so versatile that they can feature in your fall wedding food ideas. From veggies to salads, fruits, desserts, fillings, toppings, and more. The options are endless. More so, you can incorporate real foliage in your bouquet, while wearing blush pink dresses. Your invitation suite will also look marvelous with a combination of these colors.

Mustard with bright green:

Set everywhere on fire with these eye candies. They're two of the best fall wedding colors as the mustard mimics the sun, and greens, the earth. Go with mustard bridesmaid dresses and a mix of both colors for boutonnières. For centerpieces and bouquets, incorporate greenery, yellow roses, and bright red flowers. You can work with mustard table covers, bright green linens with a touch of grey.

Beige and plum:

Beige and plum are beautiful fall wedding colors, named the perfect opposites that attract. While beige is laid back, plum fires it up with brightness, and together, they make a stunning view. Alternate both colors between bridesmaids. Have the men wear a mix for their boutonnières and pocket kerchief. Wrap your flatware with alternating colors while choosing colorful dinnerware.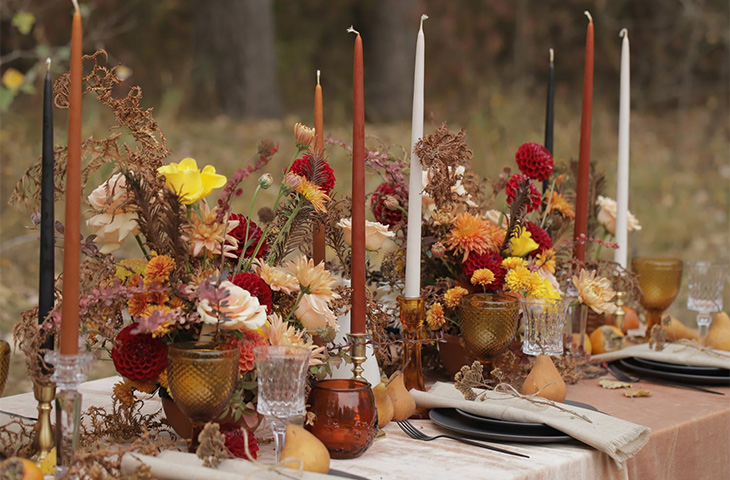 Emerald and terracotta:

Step outside the box with a combination of emerald and terracotta colors. Have the men wear terracotta-colored jackets on cerulean blue or cream tie to give a more elegant, sober, and luminous effect. Match emerald, terracotta, and light grey for bouquets, centerpieces, and floral arrangements. Choose a grey look with touches of emerald and terracotta ribbons for invitations and place cards. Work as you go according to your tastes.

Pumpkin and sage:

The sublime sage color is never too much, but a dilution by pumpkin brings it to its full potential. Sage is a great whimsical-themed wedding dress color. It also works well for beach weddings. It is okay to use pumpkin as your base color and spread sage around as you go. Bridesmaid dresses, corsages, bouquets, centerpieces, table decor, floral arrangements, and more. They're fun colors to work with.

Peach and cranberry:

Peach and cranberry can otherwise be outgoing and mysterious at the same time. Use the deep cranberry as your base color and work peach, cream, and bright yellow in accents. Feature these palettes on invitation suites, venue decor, floral arrangements, photo booth props, backdrops, linens, and place cards. More so, let them influence your food and drinks beautifully.

Marigold and slate grey:

Let the slate grey form basis for your fall wedding color scheme. The men will deck up in grey suits on marigold ties and boutonnières. The bridesmaids will look better in marigold dresses on slate grey shoes and corsages. You can also accessorize with slate grey and marigold as accents. These colors combination on the deep green is great for bouquets and lighting.

Multiple shades of grey:

There's nothing like too much grey as they come in diverse shades. This is a powerful color, perfect for suits, wedding dresses, venues, table and decors, bouquets, invites, and the whole nine yards. The cake isn't left out as you can work from the brightest to darkest shades on your tiers. Shades of grey are also suitable for diverse skin tones, so be sure that you won't be the odd one out.
Fall wedding colors are beautiful and they supply limitless options to creativity. Let these combos help you form a mood board for a memorable autumn wedding.