Are you getting sick of thinking about vacationing and want somewhere close to home that feels like a relaxing getaway? You wouldn't be the first, meaning your woes could soon be over. Turning your backyard into the ultimate relaxation getaway is a lot easier than you might think. There's so much you can do to upgrade the backyard of your home and make it into the best place to kick back and relax with friends and family. Instead of spending money on trips, spend money renovating your home.
The best thing about turning your backyard into the best possible getaway for relaxation is that you're mere steps away from your own home. This can help improve the property value of your home if you ever plan on selling it, but most importantly, it can breathe new life into a tired yard. Figuring out what to do is the first step, and it takes a lot of work turning your yard into a cool lounge space, but it's worth it. Follow these tips to turn your old backyard into a new hangout spot.
Add a patio cover.
Keeping everyone cool and covered from the elements is important for the comfort of your new backyard. Exposed patios are nice because they get a lot of sun coverage, but sometimes, it can be hard to relax when the sun is beaming down on everyone mercilessly. The experts of Phoenix Patio Covers show how an alumawood covering can offer that protection, without compromising and losing out on that valuable sunlight. There are all sorts of ways to give your backyard the nice shade you deserve. Awnings are another possible choice, too, and they work just as well. Regardless of what you choose to protect you and your guests, you should invest in this addition because nothing is worse than a fully exposed patio.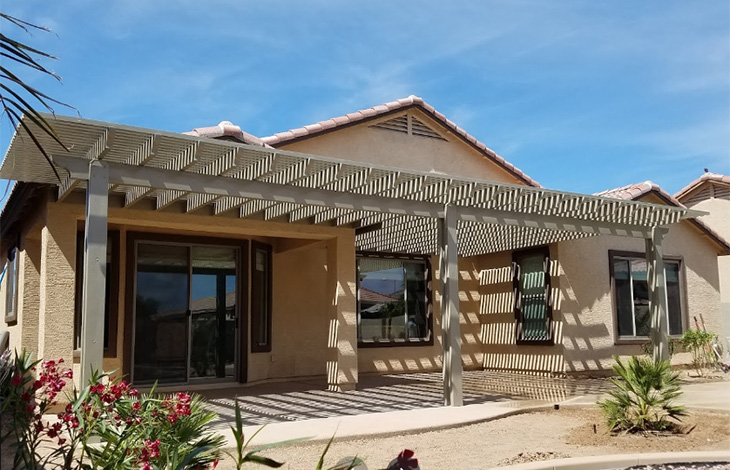 Install a pool.
Okay, a pool is a huge jump for some, but the value it offers is extraordinary. Pools are expensive and run upwards of $40-50K, but again, they can increase the resell value depending on your area. Warm places see a big boost in home value because of pools, while regions that get shorter spring and summer seasons don't. Regardless, having an above or in-ground pool in your backyard is the pinnacle of home luxury. Imagine getting home from work and being able to jump in your own pool after a long and hot day. It really doesn't get much better than a pool, and the possibility of hosting pool parties increases your home's social value to the top of the list for hangout spots with friends.
Add a garden.
Gardening might not be everyone's cup of tea, but it's hard to deny how relaxing it can be as an activity. Not only is it calming to spend some quality time out in the yard with your hands in the dirt, but the fruits of your labor can be quite rewarding, too. Planting your own vegetables could be a fun way to be self-sustainable in a small way for a backyard barbecue. What a conversation starter it would be to tell guests that the tomatoes, potatoes, cucumbers, or zucchini they were eating with their meal was grown in your backyard. Gardens offer a lot of practical use, and it adds a lot more visual appeal to your backyard. Not only should you worry about improving the entertainment quality of your backyard with a pool, but you need to consider how good the entire landscape looks, which is exactly what a garden can help improve.
Replace your grass.
You might have tried to water and fertilize your grass to no end. This happens, and most times, it's not because you have no green thumb, but rather, the soil and ground below your grass are just not conducive to growing perfect golf-course quality grass. Tearing up the backyard, putting in new soil, aerating it, and installing new grass can be the next project on your list to help improve your backyard. The look of a freshly greened backyard is unbeatable, and the feeling of it on your bare feet is definitely a perk of an improved backyard sanctuary. You can even spring for golf-course level grass, but be prepared to spend a pretty penny on something like Kentucky bluegrass. Installing new grass helps keep the quality of your yard for years to come if you properly maintain it.
Purchase new toys.
What good is having an entirely new backyard relaxation spot if you don't have the equipment or toys to enjoy it? Some of the fun things to invest in to add to your backyard include a brand-new barbecue and smoker. These go without saying because any good backyard for entertaining should have a quality barbecue setup, including a smoker for real food aficionados to try out rubs and sauces. Creating a grilling setup for food preparation and counters outside is a big undertaking, but a cool one. Riding lawn mowers take some of the efforts out of this chore and works well for bigger yards, but are fun to use. For the kids, why not add a funky sprinkler to run and play in or backyard sports like soccer nets? There's an endless list of things to add, like a big-screen TV or bar cart, but small toys for the backyard take it over the top and turn your backyard into a vacation just outside your patio door.
Improving your home can be as simple as a paint job or as big as installing a pool – the latter of which is more fun. Turning the backyard of your home into the ultimate getaway for relaxation with friends isn't always the smallest or cheapest of investments, but the return that you get comes in many forms. In particular, your home's value increases, and so does the enjoyment, which is the ultimate reward for your work. These are ways to make your backyard a true paradise.