One of the best ways to create impressive videos using photos of an event, trip, or anything else is to come up with a slideshow. All you need to do is curate and compile your photos, then add some music and perhaps a few other finishing touches.
Of course to pull that off you'll need a competent slideshow maker – which is where Movavi Slideshow Maker comes in. It can act as a slideshow maker with music that gives you everything you need to quickly create impressive-looking video slideshows.
If you already have the photos that you want to use in your slideshow ready, go ahead and launch Movavi Slideshow Maker. When you do you'll see a 'Welcome' window that allows you to choose between its two modes, i.e. the 'Slideshow Wizard' (Easy mode) or 'Full feature mode'.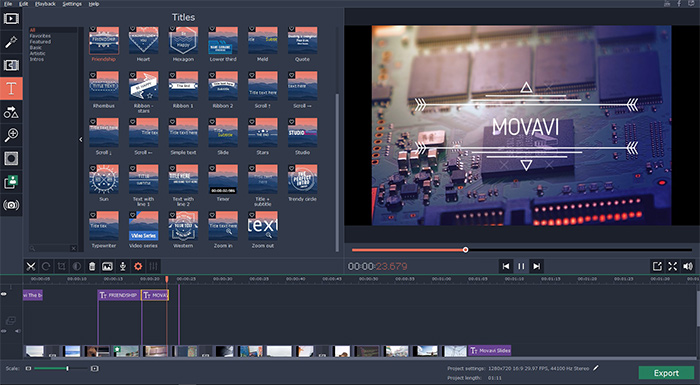 Creating a Slideshow in the Easy Mode
As you can guess the 'Easy mode' in Movavi Slideshow Maker will let you quickly compile a slideshow using a simple and straightforward wizard with 3 steps. In the first step you'll be able to add the photos that you want to use, arrange the order you want them to appear in, and set the duration for your slides.
Next in the second step you'll be able to choose a transition style for all your photos, and set the maximum transition duration so that they don't take up too much time. If you want you can opt to not include any transitions in your slideshow as well, or set Movavi Slideshow Maker to randomly use transitions.
Finally in the third and last step you can add music by selecting one of your audio files or choosing one of the built-in tracks in Movavi Slideshow Maker. It is possible to set the slide duration to automatically match the tempo of the music that you choose as well, so that it looks more synchronized. With that you'd have created a slideshow with music, and can proceed to save it in any video format.
Creating a Slideshow in the Full Feature Mode
In this mode Movavi Slideshow Maker will provide you with a 'Timeline' view reminiscent of most editors. It will also give you an expanded set of features so you can apply filters, utilize special effects, add more audio tracks, insert captions, and much more.
All of the features in this mode are organized into tabs, so locating what you need and applying them to your slideshow won't be too difficult. In fact it will even let you add video clips into your slideshow, and enhance their quality or edit them in other ways too.
Suffice to say it is a much more robust way of creating a slideshow that you can fully customize. It is up to you which method you prefer however, and if you want to create slideshows quickly and easily then the 'Easy mode' of Movavi Slideshow Maker may be preferable. On the other hand if you'd like to be able to fully control every aspect of your slideshow and edit it more comprehensively, then the 'Full feature mode' is likely to be a better fit.