So often, you find yourself looking for a cheaper airfare deal with no avail. Maybe it's because you are looking for it in the wrong places. Or perhaps it's the timing that is really wrong. Why don't you try something new?
Frankly, finding an affordable air ticket is the most involving part of planning for a travel. It takes time, and at times, some extra money. But cheap airfare deals do not come cheaply—you have to look for them. But this doesn't mean that you have to struggle for it. In fact, you should not spend a lot of time or money (unless it's the airfare) to land a cheap flight deal.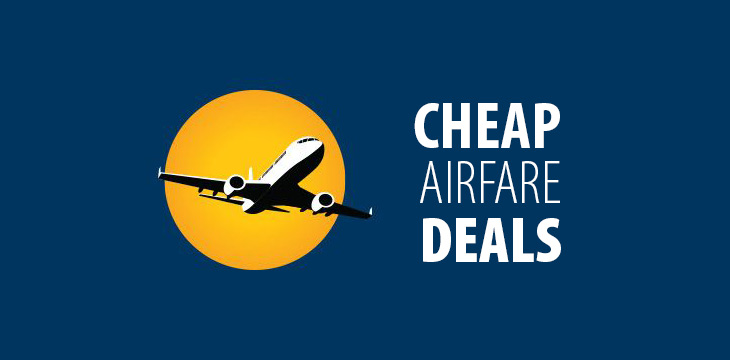 You just need to understand the insider secrets of doing it effortlessly. Here are out top 10:
1. Book in Advance
Nowadays, most airlines are not desperate to drop their airfare in the last minute just because there are empty seats. On the contrary, they prefer to lower the price early rather than later so as to encourage travelers to book first. So, stop procrastinating your time of booking and consider getting the air ticket for your next travel now.
2. Sign up for Coupons
You can enjoy travel and hotels coupons and other airfare deals if you subscribe to newsletters from the airlines that you normally use. Whenever there is a new cheap deal, the airline will send you coupon codes that you can use to book a cheaper ticket. All you have to do is to constantly check your inbox for notifications.
3. Flexibility with Time of Travel
If you are flexible enough to change the date or time of travel, you can land yourself a better airfare deal. For example, considering to travel on a weekday instead of a weekend may help you pay a cheaper price. Also, you may find it cheaper to travel early in the morning or late in the evening – if you opt for a daytime trip – instead of other times of the day.
4. Flexibility with Route of Travel
A change in the flight route may help you land a cheap air ticket. Using a tool like Google Flights or Explore, you can be able to compare prices for different flight routes that lead to your destination and choose the cheapest. If you don't mind a longer route as long as it leads you to your destination, you are likely to pay cheaper price points for your airfare.
5. Follow the Deals on Social Media
Most airlines share cheap airfare deals via social media. Examples include JetBlue, Wanderlisting, and Virgin Atlantis. So, you may find it ideal to follow them on Twitter and Facebook. When a cheap deal is on offer, you'll be among the first travelers to know about it.
6. Use Credit Card Points
Using a credit card for your shopping and for fueling your car helps you to earn reward points. You can use the points to pay a part of your airfare. To get a bigger discount, you'll need to accumulate more points. Simply, you have to shop more with the credit card.
7. Shop Around
Do not just settle on one booking site when there are so many other options. Go to the other sites and compare the prices. There is bound to be a difference in their pricing. Choose what you can afford and meets your travel needs.
8. Book Two One-Way Air Tickets
Most travelers assume that they'll pay less for round-trip than a one-way. In fact, if you want to save cash on airfare, just book a pair of one-way ticket. You'll pay less.
9. Remember the Discounters
Don't forget the discount airlines like JetBlue, Allegiant Air, Spirit, and Southwest as they normally offer discounted airfare deals to major destinations in the world. In most cases, the discount codes are found on their websites and not on the booking sites.
10. Land on Secondary Airports
A budget airline is meant for people who can't afford to pay for the comfort that first-class and business class passengers enjoy. Instead, these are people who don't mind a little discomfort provided that they get to their destination safely. These airlines mostly land on secondary airports and you can cheaply transport cargo via them.
Generally, cheap airfare deals are always available if you look in the right places. With the above insider secrets, you should be able to land yourself a cheaper air ticket easily. Just try them and see how much you'll save in your next travel.