A dry van trailer is a fully enclosed truck designed for shipping large quantities of goods and cargo. It is sealed at the sides to keep the goods dry and protect them from debris and different weather conditions. Unfortunately, this van does not have temperature control features. Thus, it is not suitable for transporting perishable goods.
What Is A Dry Van Trailer Used For?
Dry van trailers are suitable for international and local shipping. Its versatility and protection make it the most preferred trailer in the market. But where can you get a trailer for transporting your goods in bulk? There are many dry van trailers for sale in the market. These trailers can be used to transport various types of cargo and products such as:
Non-perishable foods and beverages
Raw materials
Construction materials
Items from the textile industry
Let's go over some facts about dry van trailers.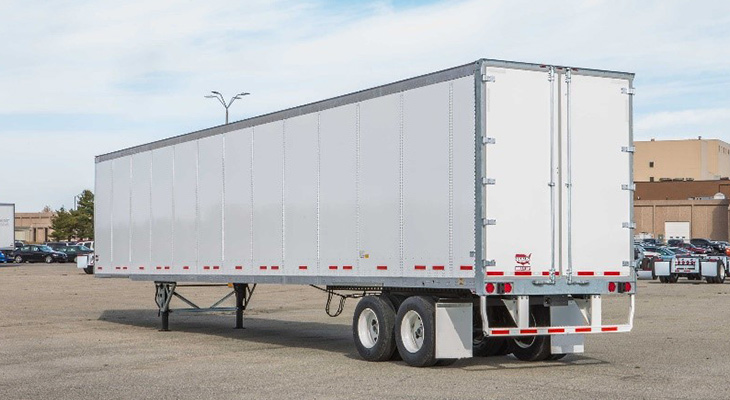 1. Dry Van Trailer Shipping Does Not Require Special Operation
Dry vans are the most commonly used trailers in the US and Canada. Because of the few operations, they are the most affordable options for shipping bulky goods for long distances. Also, you can ship items for long distances, making it a cost-effective shipping solution.
2. Dry Van Trailer Provides Goods' Protection during Shipping
The good thing about the dry trailer is that you can ship different products except for perishable goods and temperature-sensitive items. If you want to ensure safe transportation of your goods, dry van shipping is a good solution. It offers protection for any freight. Its enclosed and sealed sides help to protect your shipments from weather hazards such as sun, wind, and rain. Also, you can lock its enclosure to provide additional protection from cargo theft.
3. Dry Vans Are the Most Versatile Trailers for Local and Over-The-Road Shipments
Many people prefer using a dry van to ship their products because of its versatility. It is a good option for transporting all types of goods as long as they are not perishable and do not require temperature-controlled features. According to the experts at Hale Trailer, a dry van is a perfect solution for transporting valuable goods. As long as the shipment fits inside, you will be sure that it will arrive safely.
4. Any Business Can Use a Dry Van Trailer to Ship Their Items
If you own a company that does not sell perishable goods, you can use a dry van to ship your items. Industries such as automotive, agriculture, health care equipment supply, wine and spirit, and construction can rely on dry van shipping. Since you don't have items that require temperature control, you will be sure that they will not go bad. However, not all dry van trailers will ease the shipping process.
Since many dry van trailers for sale are coming up, there are some factors you need to consider to ensure that your shipments are safe. Durability should be the first thing to consider when making choices. A strong van will handle different weights of your shipment. Also, choose one that is fully enclosed to protect the cargo from road elements and harsh weather conditions.
5. Dry Van Trailer Features Hardwood Flooring to Prevent It from Falling During Shipment
A reliable dry van trailer has a hardwood floor. This type of floor is durable and resistant to everyday wear and tear. Thus, you will be sure that the floor will not break when uploading a heavy load. Also, a hardwood floor is resistant to dirt and liquid spills. So, wiping the dirt will be easy.
[blank]
Different companies and manufacturers prefer using the dry van trailer to ship products because of its versatility and affordable rates. If your business deals with non-perishable goods or items that are not temperature sensitive, dry van shipping can be your option.