Renovating your home can sometimes be an overwhelming task. Whilst achieving the interior décor of your dreams seems easy on paper, the reality of redecorating is often labour intensive, and can disrupt the natural flow of your household. Consequently, it's likely that you're going to want to get things right the first time around. This is especially true when installing new flooring. It's no secret that fitting flooring of any kind is one of the more difficult procedures you can undertake. Coincidentally, it's also one of the most expensive. As a result, it's important that you choose a flooring that is perfectly suited to the needs of your home, at a cost that doesn't break the bank.
Engineered wood flooring has seen a dramatic rise in popularity in recent years, and there's good reason. It's highly durable, visually stunning, and boasts room to room versatility. But at first glance, the price-tag associated with engineered wood floors may appear a little steep. If you're working towards a budget, this can be enough to send you running for the hills. However, engineered wood is actually one of the most cost-effective flooring solutions available. Spending a little extra before installation can have a positive knock-on effect, and can leave your bank balance untouched further down the line. Still need convincing? Here are just three ways that engineered wood flooring can save you money: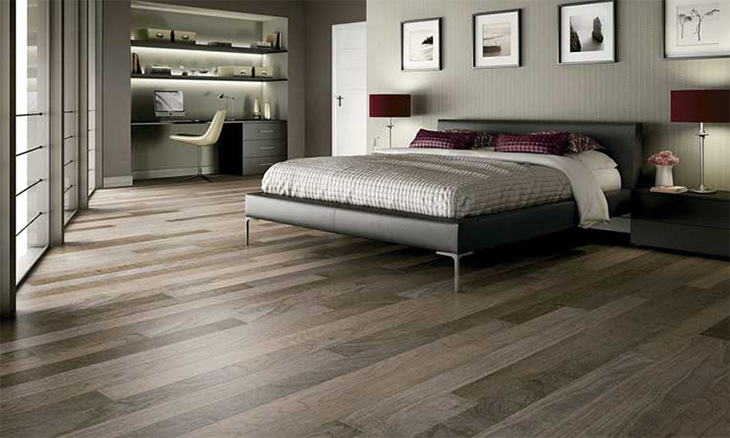 Super Strong and Low Maintenance
It won't be surprising to hear that your flooring has to deal with more day-to-day wear and tear than any other feature within your home. Whether your home has high or low levels of footfall, your flooring has to support the weight of countless family members and guests, so it's imperative that you choose a floor that is up to the challenge. If you don't, you could have to pay for the cost of repairs time and time again. Engineered wood flooring is specially constructed with durability in mind. Composed of multiple layers of compressed timber, the core of your engineered wood board is highly resistant to wear, humidity, and moisture. Because of this, they won't warp or buckle as the seasons change, and surface damages won't appear for longer. The solid wood surface layer of engineered planks is also naturally resistant to scuffs, spillages, and scratches, so you won't have to splash out on maintenance costs. In addition, if the surface of your engineered wood flooring does become visibly harmed, a quick sand and refinish will restore the boards to their former glory. This will save you money by removing the need for re-installation as the years go by.
Easy to Install
Alongside the hefty price-tag of new flooring, a huge expense many homeowners experience when it comes to installation is the cost of labour. With traditional hardwood flooring, the level of skill required to successfully complete installation is high, and a professional fitter is often required. Depending on the size of your room, this could cost upwards of several hundred pounds, and take a long time to finish. Engineered wood flooring provides a solution to this problem. Improvements in flooring technology has introduced the rise of modern installation techniques. Engineered wood flooring is often manufactured with a 'tongue and groove' or 'click' installation system, allowing the flooring to be floated, instead of being glued directly to a subfloor. Removing the need for traditional fitting equipment, the floors fit together without additional nails or adhesives. In turn, this makes DIY installation accessible for even the least experienced homeowner, cutting out the cost of a professional fitter completely. If DIY isn't your thing, this method of installation will still save you money, reducing the amount of time your fitter will spend on laying your flooring.
Increases the Value of Your Home
By choosing wood flooring when renovating your home, you are not just making a purchase; you are making an investment. The initial cost of engineered wood flooring is unavoidably higher than alternatives such as laminate and LVT, but the additional benefits are in-exhaustive. The timeless look and feel of hardwood is enough to make prospective property buyers fork over large sums of extra cash. This is because they know they'll be receiving a flooring that will last a lifetime. This is especially the case with engineered wood flooring, looking identical to traditional solid wood, whilst boasting enhanced structural stability. Alongside this, preparing engineered wood boards for house viewings is easy. A quick sand and refinish will make your flooring look as new as it did on the day of installation, and prove to be an enticing feature to buyers. Consequently, paying more at the beginning of your renovation project can actually leave you with more money later on down the line.