Golfers can sometimes look outrageous in their outfits that they wear to hit the links. From the loud plaid patterns to the billowy pants. Now, if you want to look the part, you don't necessarily have to make a statement as they do, but you should look the part.
And, really, the look has a purpose. All those years ago when the golf fashion started out, they weren't trying to make the tabloids or cause a trend in fashion, they had a practical reason to wear what they did.
So, replicating the look can help you with your game and feel pretty comfortable while also looking pretty darn stylish. Dressing the part will help your self confidence and may even help you shave off a few strokes from your scorecard.
In this article, we will go over exactly what that look is so you can turn some heads while you are hitting those birdies.
The hat
A round of golf can take several hours to play. And, typically, it is going to be quite sunny so you'll need to make sure that your head is covered. A hat is essential when playing golf.
However, you have to think about the hat a bit beforehand. Think about how you're going to be swinging the club. You can't have your hat interfere with it at all or your outing will be a disaster.
If you really want to be authentic, comfortable and also look like you know what you're doing then flag caps for men, aka the golfer's cap is going to get the job done. Your cap won't interfere with your swing and it even gives you a bit of a visor to keep the sun out of your eyes.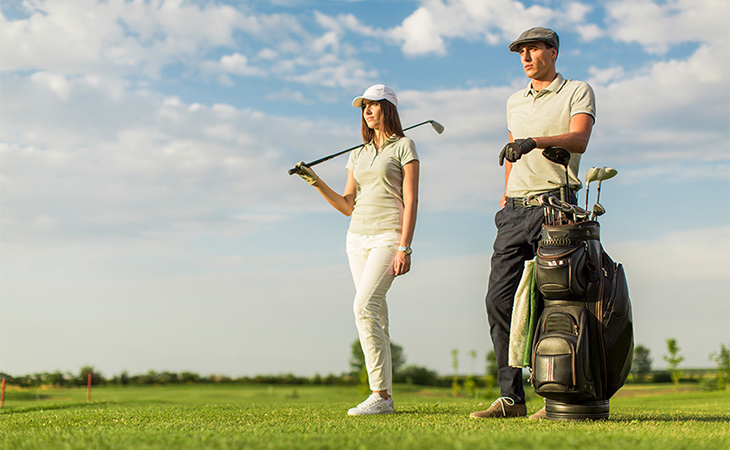 One of the best things about it is that it is allowed on any course. Unfortunately many private courses have dress codes and the hat that you may be thinking of wearing is not allowed. A baseball cap, for instance, was not allowed at many until Tiger Woods made his baseball cap popular and many are now allowing it.
Of course, a baseball cap is also a good choice where allowed as it does a good job at keeping the sun out of your eyes. They also fit snugly and won't move around while you're swinging the club.
The shirt
There are a couple of aspects to consider with your shirt. What's going to be the most comfortable and what is allowed at the course where you plan to go. The main thing is that the shirt should be loose enough to allow fluid movement, but not so loose that it causes you to alter your swing.
A Polo shirt is the ideal as it does both. And often you can find the kind that offers wicking so that it allows moisture to pass through it so you don't end up with a wet and sweaty shirt clinging to you when it's hot out.
Avoid a regular old t-shirt even if it is allowed as they are not wicking and not very practical either.
The shoes
If you don't have golf shoes, then you need to get some. For a proper swing, your feet need to be planted. This means that you need cleats to grab the ground and prevent your feet from moving during your swing.
These days, you can find a wide variety of styles to choose from. If you like sneakers, then there are plenty that have cleats attached and look perfectly ordinary. Then, there is the classic wing tip variety. Whatever is comfortable, basically is what you should go for. After all, you're going to be walking for hours.
The pants
Shorts are a no no at most private courses so if you plan to go to one, make sure that you are wearing slacks. Shorts also may seem comfortable, but you risk getting burnt on your legs. You are exposed to the sun for up to four hours so pants are going to be much better.
Look for something lightweight and somewhat loose. And, once again, wicking is very good. Not that your legs sweat, but the wicking allows the humidity to pass through the fabric and keep you cool.
If you are allowed to wear shorts, avoid things like cargo shorts as they can feel heavy on you. Especially when you are swinging those pockets can get in the way.