Selling an old, unwanted car can bolster your bank account. Whether you're selling to buy a new car, you're moving to a new city or you just want to save some extra cash, there is a buyer out there waiting for you. But selling your car isn't always easy.
Selling privately can be risky business and there's a host of scammers out there ready to take advantage of you, but you can avoid cons if you follow these simple steps.
Stick to Your Terms
Your terms need to be clear in your ad. Whether you use ads in a newspaper or on social media, you need to state your terms directly to weed out buyers. Avoid scams by stating the forms of payment you accept. Generally, you should only accept payment upfront. Con artists will try to persuade you to take checks, money orders or monthly installments. All of these options can turn out to be fraudulent, and you end up with no cash. Always state that you'll verify payment before you sign over your vehicle. Anyone who protests these terms are not the buyers you want.
Screen Potential Buyers
Screening candidates is key to finding the right buyer. Post your email address in your ad, and after buyers contact you give them your number. Communicating with them over the phone will give you a sense of who they are. Ask questions about what they do and how they plan to pay. You'll quickly discover who is being honest and who isn't. If a candidate is hesitant to give you answers, is impatient, or doesn't respect you it's time to hang up and move on.
Understand the Risk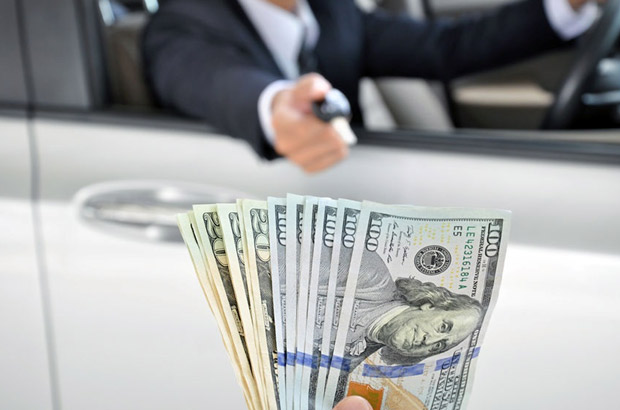 Never use a third party source for a transaction unless you can verify where it comes from. If they press you with a source they want to use, refuse to consider it until you verify that it's legitimate. Some third party sources are fronts for a scam, and even some legitimate sources will put you through more trouble than it's worth. Sellers are victimized when they eagerly accept the third party source, only to find that the party doesn't exist and no payment will be made. If your candidate requests a third party source, ask the name of the company. If they hesitate to tell you, are impatient, or try to hassle you, don't use them.
Meet in a Public Place
When you agree to meet a buyer, always meet in a public place. Do not let them know where you live and don't agree to meet in a place you're not familiar with. Choose a public parking lot like one in a strip mall or near a shopping center. Always go in broad daylight and make sure people can see you. If possible, bring a friend with you so that you're not alone. If someone presses you to meet at night or in a place far away, it's ok to turn them down.
Once you arrive, verify their license. They must carry a license even if they're just test driving your car. You should also verify their insurance so that you're covered in case of an accident. If you sell to a buyer who doesn't have a license, you will be held responsible for any problems that occur. They must agree for you to scan their license to keep a record.
Sell Using a Car Buyer
You may just want to avoid the hassle altogether and sell to a car buyer. Car buying companies will buy your vehicle regardless of its make, model or condition. Selling a damaged car can be tough, but car buying companies will compensate you—although be prepared to ask for a lot less for your damaged vehicle. You're often able to sell your car same day and get cash quickly and easily. You're less likely to be able to negotiate them but it's a great way to get your old car off your hands.
If you're looking to sell your old car, do so safely. Avoid scams and harm by following these tips.